Introducing Our New Products
Liberty Fence & Railing now installs these new fence and railing products. To learn more about any of them, please call a sales representative at (516) 872-9734 or (631) 864-3354, or to see a sample, stop by our main office at 775 Meacham Ave., Elmont, NY.
Glass / Vinyl Railings
Our beautiful new glass with double virgin vinyl PVC railings are professionally designed and installed by Liberty Fence & Railing. They look stunning on decks, balconies, walkways, and around pools. Glass panel vinyl railings offer a unique and open view and are especially perfect for those who want to take fully advantage of their waterfront view. Gates are also available.
– 36″ high glass / vinyl rails
– 60″ wide or less
– 3/8″ thick tempered glass with polished vertical edges
– T-rail top
– Choice of post caps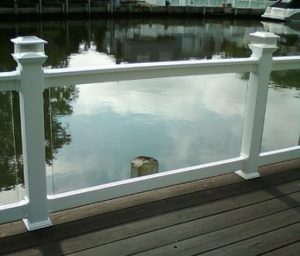 Vinyl Wood Fences
If you're looking for a trendy eco-friendly fencing solution, consider one from our new sustainable and durable Vinyl Wood fence collection. This is a great alternative to vinyl PVC – has a genuine wood finish appearance, and no trees are cut down to fabricate it. The vinyl wood panels are made from an innovative blend of polyethylene and up to 25 percent recycled material, and has UV-12 inhibitors that will keep your vinyl wood grain fence looking as good as the day Liberty Fence & Railing installs it. The high density polymer coating has been tested to endure the harshest weather conditions (from -40° F to 140° F) with little to no panel fading. Vinyl wood fencing never needs staining or any maintenance, and will not warp, fade, or crack.
– 4' and 6' fences available
– Four designer woodgrain colors: Walnut Brown; Nantucket Gray; Red Cedar; and Black Oak
– Matching post caps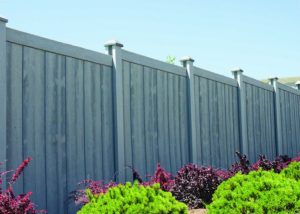 Faux Rock Pillars
Stylish and realistic looking, Liberty Fence & Railing's faux rock vinyl pillars give the impression of real rock and stone. They have a natural look and texture and is a much more affordable option that actual stone/rock pillars. The vinyl faux columns are durable, weather resistant, and easy to maintain, and are perfect for adding detail to driveways, gateways, decks, porches, and entrance ways. Faux stone pillars can even be used in lieu of sign posts and fence/railings posts. We will happily work with your architect, contractor, or designer.
– Ledgestone rock style
– Main pillar section is 21"x21"x46" (without cap)
– 24" base extender to increase height to 70" (can be buried into ground 12" to make it lower)
– Choice of Pyramid cap or Flat cap
– Can be installed with vinyl, aluminum, chain link, and wood fences; vinyl and aluminum railings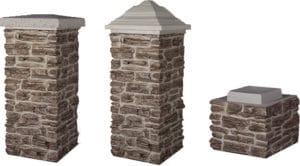 Embossed Woodgrain Vinyl Fences
Liberty Fence & Railing's new embossed woodgrain pattern vinyl fences and gates feature an enhanced authentic wood-like appearance and texture. A hand-stained finish gives the panels a more subtle, weathered look than our smooth, glossy woodgrain vinyl fencing products. Available in any height.