What to Know Before Purchasing Your New Fence or Railing

Planning Helps Make the Most Out of Your Investment
Choosing the right fence or railing can increase your property value, enhance curb appeal, and improve the functionality of your home or business. Whether you're buying a privacy fence or an enclosure for a new pet, proper planning ensures a successful, timely, and cost-effective installation you (and your neighbors) will be happy with for years to come.
"Part of our mission is to make certain each customer is satisfied with their purchase and the work we do," says Anthony Strianese, owner of Liberty Fence & Railing. "Every fence, gate, and railing installation is different; we assess each project individually and collaborate closely with our customers to select the style and design that best meets their needs."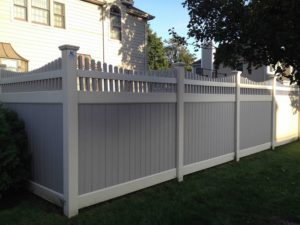 Buying a new fence or railing is an investment. Before you install it:
KNOW YOUR GOALS
The success of any project begins with the end in mind; having a clear purpose for your new fence or railing shapes your choices as you move forward. Things to consider when determining your goals include: security needs, privacy concerns, pet confinement, budget, and upkeep effort.
KNOW THE RULES
Every municipality has zoning regulations that impact your fencing and railing options. These codes can include height limitations, how close to the property lines a fence can be built, and even if they are allowed on front lawns. There may be further restrictions in place if you are in a historic district, a new development, or part of a neighborhood association. It is important to contact your local zoning department for specific protocols in your area; obtaining all the requirements up front can potentially save costly changes down the road.
KNOW YOUR PROPERTY
It is essential to know the exact location of the boundary lines for your property before beginning any fencing installation. This assures compliance with all building regulations and can prevent any setbacks. Professional help is best to determine proper boundaries.
KNOW YOUR NEIGHBORS
Whenever possible, talk to your neighbors about your plans. Fence etiquette guarantees they are not surprised by your decision and you can address any concerns they may have. It is prudent to confirm your land's boundary lines to prevent any future disputes. You and your neighbor may choose to have a shared fencing solution, where you would each contribute to the cost; any agreement you make should always be in writing.
New fences or railings can provide many benefits including increased enjoyment of your land, as well as offer protection and safety to your outdoor space. Determining your goals up front, knowing the rules for your community, verifying your property lines, and discussing plans with neighbors in advance will ensure a functional installation that meets your needs for years to come.